The PoCC Heads' Summit offers heads of school affinity, community, restoration, and renewal. Event programming will include inspiring speakers, leader-generated workshops, somatic and experiential sessions—all in service of building increased capacity for meeting today's leadership challenges and opportunities. The PoCC Heads' Summit will take place in St. Louis, and a schedule at a glance is below. This event is open to sitting heads of school, and may be selected during the PoCC registration process.

PoCC Heads' Summit Program
This schedule will be updated and is subject to change. All times listed are Central Time. A final schedule will be distributed to registrants closer to the event.
TUESDAY, NOVEMBER 28
5:30–7:30 PM
PoCC Heads' Summit: Registration and Check-In
6:00–7:30 PM
PoCC Heads' Summit: Welcome Reception
WEDNESDAY, NOVEMBER 29
7:00–8:00 AM
PoCC Heads' Summit: Breakfast, Registration, and Check-In
8:00–8:15 AM
PoCC Heads' Summit: Welcome Remarks
8:15–8:30 AM
PoCC Heads' Summit: Summit Opening Remarks
8:40–10:15 AM
PoCC Heads' Summit: Keynote Experience: Living Your Truth: Discovering Your Authentic Leadership (Omekongo Dibinga)
10:15–10:30 AM
PoCC Heads' Summit: Break
10:40 AM–12:15 PM
PoCC Heads' Summit: Keynote Experience: Building an Identity Conscious Practice: A Focus on Leadership and Governance (Liza Talusan)
12:15–1:30 PM
PoCC Heads' Summit: Lunch
1:30–3:00 PM
PoCC Heads' Summit: Keynote Experience: Points of You: Our Voices, Our Stories, Our Future (Yaron Golan, Caroline G. Blackwell, Antonio Hernandez, Meron Kelly, Veronica Navarro, Matias Ibáñez Carpena, Rina Levitt)
3:00–3:15 PM
PoCC Heads' Summit: Break
3:15–4:45 PM
PoCC Heads' Summit: Affinity Group Experiences
4:45–5:00 PM
PoCC Heads' Summit: Concluding Remarks

Pricing
Registration Type
Early Bird Rates
(Through October 31)
Member/Non-Member
Standard Rates
​(After October 31)
Member/Non-Member
For PoCC Registrants
You must be registered for the 2023 NAIS People of Color Conference.
$250 / $350
$300 / $400
For PoCC Non-Registrants
This rate applies to heads who are not planning to attend the 2023 NAIS People of Color Conference but would like to attend the PoCC Heads' Summit.
$475 / $665
$525 / $735
*Nonmembers: If you are actively applying for NAIS membership, you are eligible to receive the NAIS discounted price. Contact us to learn more.

Speakers
Omékongo Dibinga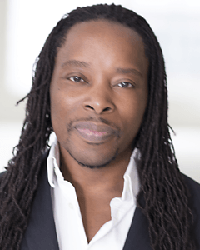 Omékongo Dibinga's life mission is to inspire all across the globe to take a stand when they witness an injustice, no matter how small or large.
He is an international speaker, trilingual poet, TV talk show host, rapper, and professor of intercultural communication at American University, where he also serves as a faculty affiliate to the Antiracist Research & Policy Center. His Urban Music award-winning work has best been described by poet Nikki Giovanni as "outstanding, exciting, and new while being very old." His book From the Limbs of My Poetree was described by Essence as "a remarkable and insightful collection of exquisite poetry that touches sacred places within your spirit."
Dibinga's writings and performances have appeared in O, The Oprah Magazine, as well as on TV and radio from CNN, BET, and the BBC to NPR, Music Choice, and Voice of America in millions of homes in over 150 countries. He has also written songs for major motion pictures as well as organizations such as NASA and the Enough! Project. He has spoken before the United Nations, partners with the State Department to conduct leadership training overseas, and speaks to corporate, government, and educational organizations across the country on issues centered on leadership, antiracism, diversity, and inclusion.
Dibinga has studied at Harvard, MIT, Princeton, Georgetown, Morehouse, and The Fletcher School, where he earned his master's degree in law and diplomacy. He earned his Ph.D. in international education policy at the University of Maryland. He has worked with school districts across the country on culturally relevant instruction. His book The UPstander's Guide to an Outstanding Life is a life balance book for students. His bestselling book Lies About Black People: How to Combat Racist Stereotypes and Why It Matters was released in July.

Liza Talusan
An educator, strategic change partner, writer, leadership coach, and parent, Liza Talusan has more than 25 years of experience in PK-20 education and organizational leadership. She adeptly facilitates conversations about diversity, anti-racism, bias, privilege, and power. Talusan empowers individuals to create more inclusive organizations, environments, communities, and teams by centering values, strengths, and vision. She firmly believes that building the habits and skills for identity work helps us to enhance curiosity, connection, collaboration, and community.

Her scholarship has been published in peer-reviewed journals, edited book collections, and online platforms and featured in podcasts and interviews related to leadership and identity. Talusan serves in several national organizations focused on education and equity. She has consulted with more than 350 schools, organizations, and corporations across the country.

In addition to her work at the national level with corporations, nonprofit organizations, and schools, Talusan serves as a faculty member in the Department of Educational Leadership at the University of Massachusetts Boston, where she teaches in both the master's and doctoral programs. Solution Tree Press published her recent book, The Identity Conscious Educator: Building Habits and Skills for More Inclusive Schools, which earned a Gold Medal from the IPPY Awards in 2023.

Talusan's session will address what it means, in 2023, to build an identity-conscious practice that focuses on curiosity, collaboration, critical thinking, compassion, and community. She will share insights into navigating both the patience and urgency to address issues of identity in our schools and leadership.