This schedule may be updated and is subject to change. All times listed are Central Time.
SDLC Keynote Speaker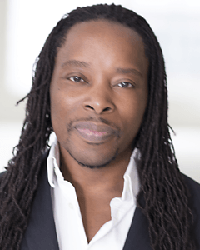 Omékongo Dibinga
Friday, December 01, 4:15–5:30 PM CT
Speaker, poet, musician, author, and professor will talk about what it means to be an "UPstander."
Omékongo Dibinga's life mission is to inspire all across the globe to take a stand when they witness an injustice, no matter how small or large.
He is an international speaker, trilingual poet, TV talk show host, rapper, and professor of intercultural communication at American University, where he also serves as a faculty affiliate to the Antiracist Research & Policy Center. His Urban Music award-winning work has best been described by poet Nikki Giovanni as "outstanding, exciting, and new while being very old." His book From the Limbs of My Poetree was described by Essence as "a remarkable and insightful collection of exquisite poetry that touches sacred places within your spirit."
Dibinga's writings and performances have appeared in O, The Oprah Magazine, as well as on TV and radio from CNN, BET, and the BBC to NPR, Music Choice, and Voice of America in millions of homes in over 150 countries. He has also written songs for major motion pictures as well as organizations such as NASA and the Enough! Project. He has spoken before the United Nations, partners with the State Department to conduct leadership training overseas, and speaks to corporate, government, and educational organizations across the country on issues centered on leadership, antiracism, diversity, and inclusion.
Dibinga has studied at Harvard, MIT, Princeton, Georgetown, Morehouse, and The Fletcher School, where he earned his master's degree in law and diplomacy. He earned his Ph.D. in international education policy at the University of Maryland. He has worked with school districts across the country on culturally relevant instruction. His book The UPstander's Guide to an Outstanding Life is a life balance book for students. His bestselling book Lies About Black People: How to Combat Racist Stereotypes and Why It Matters was released in July.
SDLC Speaker
Simon Tam
Wednesday, November 29, 6:45 PM–7:45 PM CT
Author, musician, and activist.
Simon Tam may be best known for winning a landmark case (Matal v. Tam) at the Supreme Court of the United States in 2017. His memoir, Slanted: How an Asian American Troublemaker Took on the Supreme Court, was named One of the Best Books on the Constitution of All Time by BookAuthority and won an award for Best Autobiography/Memoir from the Independent Publisher Book Awards.

The New York Times, The Washington Post, Rolling Stone, NPR, and The Daily Show with Trevor Noah have featured Tam's work in arts and activism. He is the founder and bassist of The Slants, one of the first all-Asian American dance rock bands in the world. Tam also co-founded The Slants Foundation, a nonprofit pushing the boundaries of what is possible for arts, activism, and civic engagement.

Keynoting thousands of events across four continents, he holds a world record for TEDx stage appearances and coaches numerous TED presenters. Tam regularly consults world leaders and major organizations on policies related to equity, diversity, and inclusion. In 2016, he joined President Barack Obama, George Takei, Jeremy Lin, and other celebrities in the #ActToChange campaign to fight bullying. Tam has worked with Jay Z, Killer Mike, and Chance the Rapper on legislative efforts to protect artistic expression.

Tam believes that apathy is not compatible with love. His passion for ideas that combine the arts and activism is evident in all of his work, from his music to his writing. He works to change the culture by transforming systems with an equity framework, all while holding down harmony and rhythm on the bass guitar.