Available September 27
Find New View EDU on Apple Podcasts, Google Play, Spotify, Stitcher, and many other podcast apps.
What would school look like if education was designed based on the belief that every child is a genius who can change the world? What if schools put learning into the hands of the student instead of the teacher? What if instructional models included less "instruction" and more time guiding kids to finding their own answers and inspirations? These are just some of the starting points for this discussion, and for the work that Tyler Thigpen does on a daily basis.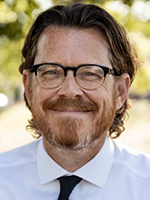 Tyler Thigpen is a father of four who heads up The Forest School and the Institute for Self-Directed Learning. He also teaches at the University of Pennsylvania and strives daily to be an optimist and an encourager of others, especially young people. In this episode, Tyler joins host Tim Fish to discuss the work he does within the Acton Academy model at The Forest School, how that work has led to the development of the Institute for Self-Directed Learning, and what educators, parents, and students can expect from an educational experience that's radically different from the norm.
Far from basing learner outcomes on traditional measures of academic success, Tyler shares that his approach is to help students develop four core competencies: learning to be, learning to do, learning to learn, and learning to live together. Describing these competencies as "key marketplace skills," Tyler delves into the benefits of an educational model that is purely student-directed.
Self-directed learning, as Tyler explains, is based in offering learners a great deal of choice and autonomy, but even more so in the adults around them learning to step back and allow productive struggle to take place. At The Forest School, he shares, teachers are called "guides" and are there to help students grow and make choices as they progress at their own pace along their own path. What the guides don't do is answer questions. And while that's a difficult shift in mindset for many parents who consider the school for their children, Tyler believes it's a necessary one to allow kids to engage in the type of productive struggle that will help them grow and flourish—and which is lacking in many classrooms across the country today.
Learning to take ownership of their own learning and behavior, hold themselves and others accountable, and developing the skills to "right-size" their goals and manage their time effectively are some of the cornerstones of the student-led learning that's key to the success of The Forest School and others like it. Collaboration and real-world application of learning are also important pieces that Tyler stresses make self-directed learning valuable and applicable to a successful future in a rapidly changing society. Surprisingly, Tyler points out that these benefits to the learner can also be achieved with smaller staff sizes and budgets than a traditional school model. Yet in no way does academic achievement or quality have to be sacrificed in pursuit of self-directed learning goals.
Is a fully self-directed learning environment right for every child, family, or educator? Not at all—but for those who can thrive in a self-directed model, Tyler believes that student-led approaches to education have the potential to result in "the humans we want" for the future.


Key Questions
Some of the key questions Tim and Tyler explore in this episode include:
What are some of the core values of The Forest School and of Acton Schools in general? How do they differ from a more traditional educational model?
What does "self-directed learning" really mean? What does a typical day look like in a school like The Forest School, and what are the benefits to the students and staff?
What are some of the challenges students, educators, and parents face when they embark on self-directed learning? What "learning journeys" do they have to undertake to unlock the potential of this type of education?
How does a self-directed learning approach change the business model of a school? How does it scale, and what are the tradeoffs?
Episode Highlights
"We believe that there's a connection between developing strong character and being able to shoulder the responsibility for your own learning. And so, the learners are given opportunities to make rules and to learn how to follow those and to hold one another accountable and responsible for those rules and in doing so, practice good, strong character." (8:25)
"Wherever there's something that teachers or adults have typically done in a school setting that we think learners can do, we'll step back and we'll let them do it. And it will take awhile and it will be messy, but it's what neuroscientists call productive struggle. That's really missing from a lot of teacher-led classrooms in our country today." (12:16)
"And of course they have so much choice and they have to experience the natural consequences of those choices. And that's very powerful. I mean, them experiencing the natural consequences, positive or negative, of their choices is maybe the most powerful instructor in the building." (15:19)
"We are sort of agnostic to how fast or slow they're going. That's one of the beautiful things about a self-paced environment. You can go as fast or slow as you want. We typically find learners go faster on average, and most of our learners do, you know, are above grade level, as evidenced by norm-referenced tests nationally, but we're OK with them going slow, too. Because sometimes that's OK. And, hopefully, that kind of environment that embraces that being behind, being on track, being ahead, whatever, helps them flourish a little bit more. And appreciates the unique differences of every young person." (20:13)
"I think a real great critique of self-directed learning, if you don't know anything about it, you just hear the idea. It's like, oh, that's, that's pretty self-centered for kids. It's like, oh, just let them do whatever they want to do. …And so we included a definition of self-directed learning that has young people on the hook for the other. For helping others, for finding a calling that will in fact change their communities and change the world." (37:58)
Resource List
Full Transcript
Read the full transcript here.
About Our Guest
Tyler Thigpen grew up in Georgia and has worked in innovative district, private, and charter schools, as well as statewide and national nonprofits. Tyler is co-founder of The Forest School: An Acton Academy in south metro Atlanta, co-founder and executive director of the Institute for Self-Directed Learning, and instructor and academic director at the University of Pennsylvania Graduate School of Education. Formerly, Tyler was partner at Transcend, a national nonprofit in school redesign, and he worked closely on innovative school projects such as nXu, Whittle, The Academy Group, Washington Leadership Academy, Art in Motion, Hebrew Public, Teton Science's Place Network, EL Education, and the Brooklyn STEAM Center. Tyler also co-founded MENTOR Georgia, Transforming Teaching at Harvard, and the Chattahoochee Hills Charter School. Earlier, Tyler worked as head of the upper school at Mount Vernon Presbyterian School in Atlanta, Spanish teacher in Gwinnett County public schools, and minister at the Grace family of churches where he led international development in Peru in areas of health care, education, poverty reduction, infrastructure, and human rights. Tyler holds a doctoral degree in education leadership from Harvard Graduate School of Education, a master's in public administration from Harvard John F. Kennedy School of Government, and a master's in theological studies from Regent College of the University of British Columbia. Tyler has written about the future of learning in The Washington Post, Education Week, Atlanta Journal-Constitution, Getting Smart, and others. Tyler lives with his four children, all of whom attend The Forest School, in Trilith, GA.