Available March 14, 2023
Find New View EDU on Apple Podcasts, Google Play, Spotify, Stitcher, and many other podcast apps.
The hottest conversation in education right now revolves around ChatGPT. What is it, how is it being used, and what does it mean for our traditional systems of teaching and learning? Season 4 of New View EDU begins with a discussion about the rapid evolution of artificial Intelligence and the impact ChatGPT and other AI innovations will have on the future of schools.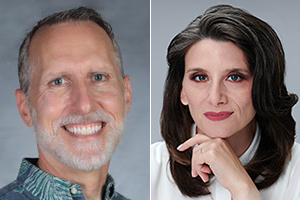 Host Tim Fish sits down with educational innovators Christina Lewellen, of ATLIS, and Paul Turnbull, head of school at Mid-Pacific Institute, to dig deep into what ChatGPT means for schools. Is it just the next evolution of search? A tool for cheating and plagiarism? Something to ban and fear, or something to embrace and build upon?
First and foremost, Paul and Christina agree, it's important for educators to understand that ChatGPT is just the tip of the iceberg. With other similar AI tools in development already, it's clear that this type of interface is here to stay. What's vital now is for schools to decide how to incorporate rapidly changing technologies like AI into their curriculum. They also need to train students and staff on appropriate usage of different tools so they become aids to deeper learning, not shortcuts or impediments.
Discussing some of the potential uses for ChatGPT in the classroom, Tim, Christina, and Paul cover ideas like peer editing, framing drafts, and search aggregation for a more natural and deeper research experience. With the caution that users will always need to fact-check and verify the results offered by a ChatGPT session to correct for bias and misinformation, the group agrees that the tool offers a richer and more intuitive experience than traditional search engines.
What ChatGPT and other AI tools can't replicate, Paul points out, is student voice. The opportunity to use ChatGPT to help draft content is a real concern for educators, but the loss of unique perspective, voice, and point of view is a serious limitation that can be used as inspiration in a school setting. How can schools encourage students to think more deeply about their own point of view and their own narrative voice? How can students then take what ChatGPT has to offer and consider whether it reflects what they themselves think and feel, and how they want to express those things? The human role, Paul argues, is still strongly viable within the framework of using AI as a springboard for content creation.
There are also deeply practical applications for AI tools in education, Christina argues. Teachers already report using ChatGPT for tasks like re-leveling content for diverse learning needs, or helping students debug original code. Tim also points out that widely accepted tools like Grammarly are already-existing AI applications that schools have incorporated into their work for years. Viewed through the lens of constantly progressing technological tools—pencil and paper, calculator, computer, internet, search engines, educational platforms like Google Classroom, video platforms, educational gaming, virtual reality, and so on—the appearance of ChatGPT has the potential to continue raising the bar on how much critical thinking and higher-level learning students can be expected to do. No longer do schools exist in a world where they have to impart content memorization and assess students' retention of basic facts; now tools like AI offer the opportunity to reimagine what it means to be educated for the future.
There are ethical implications, of course. Christina cautions that it's vital to educate users on the contribution ChatGPT makes to their digital footprint and to codify school policies and procedures around the use of AI tools. Paul adds that schools also need to clearly understand how AI and other technological advances fit into their individual missions, and how to align the use of tools with the school philosophy overall. But both remain excited and optimistic about the potential of AI in the future of education.
As a "game changing" technology, ChatGPT is a sign of things to come. Viewed as a tool of collaboration, partnership, brainstorming, idea generation, and editing, it has the potential to unleash new forms of creativity from both students and educators. As Christina says, this is a wake-up call to school leaders that the world in which we live, and the world for which we are preparing our students, is rapidly changing. How schools adapt and grow to embrace the changes will define their trajectory for years to come.


Key Questions
Some of the key questions Tim, Christina, and Paul explore in this episode include:
What is ChatGPT, and how is it similar to or different from other forms of AI and educational technology? How are schools responding to the introduction of ChatGPT?
What are some of the expected and unexpected uses of ChatGPT that schools might consider? Do independent schools have a unique role to play in leading the educational community through the evolution of AI?
In the wake of ever-evolving AI tools, what should schools focus more on, and what should they do less of to prepare students for the future?
What are the ethical implications of ChatGPT and similar AI tools in education?
What is the role of creativity and individual voice in using tools like ChatGPT? How can schools foster those traits and leverage them for deeper learning?
What does AI mean for the future of education?
Episode Highlights
"Where does ChatGPT show up in this conversation? Where do I show up in the conversation and what's my voice? Because schools should be about voice, right? Especially student voice. So that's the thing I like the most, we're keeping that North Star in place, what's best for students and how do we help the helpers." (18:23)
"It doesn't mean I don't need to be a writer. It means I have to have even a better understanding of my voice and what I'm trying to say and the point of view that I value. So that's a different piece for me. And so it almost yanks us up levels on Maslow's hierarchy." (20:12)
"I understand that a lot of schools, as they're dealing with ChatGPT, are making sure that teachers are kind of coming at it and saying, this is a tool. I am not forcing you to use it. I'm not advocating that you use it, but if you do use it, you need to understand the implications of using it. Because at the end of the day, while that account can be deleted—sort of like we all had to teach our students about social media—you can delete your account, but that doesn't mean the content that you put there is gone." (23:47)
"I would love to see GPT as almost a bridge or a unifier to allow more interdisciplinary studies between courses and subjects around campuses. If you think about most high schools, we have silos in terms of departments. … But at the end of the day, if it's possible to say, you know what? We have this amazing visual arts class and we have this amazing game design class, and we have this music class, how might we work together? So that there's the sense of almost a little studio that we can put together because we're looking at student creativity. And this is where I think deeper learning is really having its day." (26:11)
"This is a big change agent in our schools. It is time to take a brief moment to reflect on what that means, because rather than being afraid of what it means, I think looking at the opportunities that it brings to really weave technology into how we accomplish our missions, there's some cool opportunity, especially for the schools that have been a little hesitant to bring that into their world. It's time. There's not, there's no ostrich situation, head-in-the-sand situation that's going to let us get out of this. We're going to have to think about it and be proactive." (41:42)
Resource List
Full Transcript
Read the full transcript here.
Related Episodes
About Our Guests
Christina Lewellen is a seasoned association executive who has served industries ranging from window manufacturers to court reporters to proposal writers. She brings a data-driven framework to business planning and strategy, having earned her MBA from the Rochester Institute of Technology and the Certified Association Executive designation from the American Society of Association Executives. She was named the executive director of ATLIS in 2019, and serves in a variety of ways as an advocate for independent schools and their leadership teams.
Paul Turnbull, Ph.D., is president and CEO of Mid-Pacific Institute, an independent, co-educational, college-preparatory school for preschool, kindergarten, and grades 1-12. It was one of the first schools in the United States to equip all of its students with iPads. Mid-Pacific is currently the only pre-K-12 school in the U.S. offering an immersive technology program that features 3D laser technology and virtual reality for the preservation of historic treasures, and it is consistently recognized for its innovative educational, technological, and artistic programs.