Available May 2, 2023
Find New View EDU on Apple Podcasts, Google Play, Spotify, Stitcher, and many other podcast apps.

Planning for the future of our schools isn't easy. In recent years, we've seen firsthand how even the best-laid plans can go awry, and schools have been left grappling with issues that no one could have predicted. So how can we continue to embrace strategy and futures thinking in a way that allows us to not only make plans, but execute on them, in the midst of an ever-changing landscape?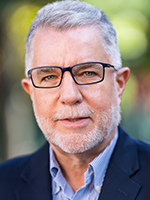 Dr. Jim Honan joins host Tim Fish for an in-depth conversation about the importance of strategy, accountability, and clarity of vision in the world of independent schools. As a board member of NAIS, faculty member of the NAIS Institute for New Heads, and senior associate director of the Advanced Leadership Institute at Harvard University, Jim is uniquely positioned to speak on the various challenges and opportunities that lie ahead for school leaders. He brings his insights and experience to an incisive and direct discussion about what schools need to plan effectively for the future.

At the core of the conversation is the concept of being "built for it"—whatever "it" may represent to an individual school community. As someone who has taught in the online space for 15 years, long before the pandemic brought remote learning to the forefront for most schools, Jim is able to advocate passionately for doing new and innovative things like online learning well and thoroughly, or not at all. He points to meticulous planning, research and development, and physical support as the hallmarks of the built environment that has allowed him to successfully reach students in online and hybrid formats. His success is in direct contrast, he notes, to the kind of hasty pivot many educators were forced to make in 2020; the difference between online learning when one is "built for it," and online learning without adequate planning and support, is an illustration of what happens when education moves into the space of innovation without clear strategy.

Innovation for the sake of innovation is poor strategy, Jim says. He asks his teams to reject doing new things just because they might be interesting or different, requiring instead that there be a real educational rationale for trying something new. Too often, he theorizes, leaders adopt the latest and greatest technology or approach without connecting those innovations deeply to the school's mission, identity, and desired outcomes. Smart strategy should include a sound pedagogical reason for doing new things, and never at the expense of keeping the day-to-day operations running well. At some point, Jim points out, even innovation becomes routine; if your environment is built well to support the new and different, it will become operationalized and be part of business as usual.

As the degree of complexity in our environments increases, with greater ambiguity than ever before, Jim recommends leaning into the concept of ensemble leadership to support innovation and future thinking. Solo leadership can no longer support the development of all the critical skills and competencies required to successfully lead our schools through changing needs and challenges. He urges school leaders to think of their job as building connections between the skilled people on the team, and providing them with the resources required to do the best job possible. Through building a team that's able to function and lead from within at every level, schools can create an environment that supports good execution of whatever strategy they envision.

And envisioning that strategy, Jim notes, may not look as it once did. Reminding leaders to revisit whatever their traditional five-year plans looked like in 2019, he muses that strategic forecasting and scenario planning may be more useful in our current landscape. Nimble adapting is more necessary than ever before, and foresight can help schools adopt that kind of planning. "What could this look like and what are some scenarios?" he asks. And always, he cautions, future visioning and strategy should be tied to a single question: "Will this make us a better school?"


Key Questions
Some of the key questions Tim and Jim explore in this episode include:
What are the new, emergent skills and competencies leaders need to develop?
What key learnings have you encountered in the past several years as you look at leadership and strategy in the context of the independent school world?
How can leaders manage the both/and nature of strategic planning that allows for strong execution and flexible, situational adaptability at the same time?
What is the future of sustainability in independent schools? How can strategy help address this challenge?
Episode Highlights
"As we move forward, it's that sense of connection among team members, among various people in various roles, be it teachers or staff members, et cetera. And then creating that sense of connectivity and belonging to show people there's some common purpose in the work. So sure. Call it what you will, playing well with others or understanding what the people in your organization need to do their best work and you being attuned to that. That's a team sport." (7:27)
"I'm not a big fan of chasing bright shiny objects. I think the caveat in the innovation space is we're not, I told my teams this, we're not just gonna do this because it looks cool. That, wouldn't it be neat if we did this? It probably would be, and that would be awesome. We haven't done it before. It would be cool and neat, but on the other hand, it's not driven by some educational purpose." (11:10)
"We say, on average it's a good idea to have a strategy. So do whatever you need to do to do that. We think it's really important to fund it and do it, your point on execution, and sometimes people underestimate that stuff. I always want to tip my cap to people who can execute well. And in schools, this means knowing a lot about teaching and learning, right? Well-executed all the way around. Designed well, and funded." (20:40)
"Occasionally someone will say, have you ever seen a mission like this? Isn't this unique? And with deep respect, the answer is, there's like 10 other places who say they're doing that. So that can't be the uniqueness. I think there's this added expectation and burden, if you will, in independent schools, on the point you made, to really be crisp and clear about that. This is what's distinctive about us, and this is how we're going to execute on it. And we have data to show that we execute on that unique, call it what you will, mission or value proposition." (24:51)
Resource List
Full Transcript
Read the full transcript here.
Related Episodes
About Our Guest
James P. Honan has served on the faculty at the Harvard Graduate School of Education (HGSE) since 1991. He is also a faculty member at the Harvard Kennedy School (HKS), an affiliate faculty member with the Center for Public Leadership (CPL) at HKS, and co-chair and senior associate director of the Advanced Leadership Initiative (ALI) at Harvard. He is educational co-chair of the Institute for Educational Management (IEM) at HGSE and faculty chair of Emirates Leadership Initiative Executive Education Program and Nonprofit Financial Stewardship (NFS) at HKS, a fully online executive education program. He has been a faculty member in a number of Harvard's other executive education programs and professional development institutes for educational leaders and nonprofit administrators. He has also taught in executive education programs and professional development institutes in many countries around the world.

He has served as a consultant on strategic planning, resource allocation, and performance measurement and management to numerous colleges, universities, schools, foundations, and nonprofit organizations both nationally and internationally. He holds a bachelor's degree from Marist College, a master's degree and education specialist degree in higher education from George Washington University, and master's and doctorate degrees of education in administration, planning, and social policy from Harvard University.