Available September 26, 2023
Find New View EDU on Apple Podcasts, Google Play, Spotify, and many other podcast apps.

Human relationships first. Academic study and arts training are co-curricular. Environment matters. Relentlessly make space for the things that matter most. Compliance is not the same thing as magic. Process matters and so does product. These are just a few of the ideas Jason Patera brings daily to his work as the head of The Chicago Academy for the Arts.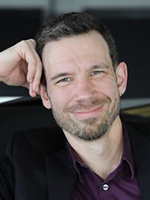 In this episode of New View EDU, Jason joins host Tim Fish to talk about his journey from an aimless 16-year-old to the influential head of one of the nation's most prestigious arts-based high schools. Sharing the story of how a chance encounter at The Chicago Academy for the Arts started a lifelong association with the school, Jason delves into the key lessons he has learned that have helped him develop the "Academy Method" for school leadership.

Jason begins by tracing the influence of mentors on his life, and how he learned early on that "all you need to do to change someone's life is decide to do it." He discusses how that focus on human relationships has led to a thriving community where students are fully known and seen, where staff are respected for both their content expertise and their individual strengths, and where the depth of trust is great enough for every student and parent to have his personal cellphone number.

Far from focusing solely on artistic product over academic rigor, Jason explains that the Academy Method treats the arts and academic subjects as equally important. He shares that he believes in the value of math, science, and the humanities as standalone areas of study worthy of their own place, just as the Academy community believes in the value and worth of each arts discipline. That commitment, he says, creates young artists who have depth of thought and experience outside of their disciplines and have something worth creating art about—and, Jason hopes, encourages each student to approach their academic studies with the same passion and focus they bring to their art.

That passion and focus, Jason says, is the process of "learning how to learn things"—and, he points out, it's rarely measured in schools. But what he leans into is the importance of prioritizing what matters most and creating a process that leads to an excellent product. Those priorities mean reducing bureaucracy to allow teachers to create "magic" in the classroom, keeping school doors open longer than usual to let students work on their passion projects, and knowing that those things will come at the expense of some typical high school trappings, like sports teams and lengthy lists of clubs and activities. In the end, Jason says, the most important lesson is to recognize that what we think of as our limits are only illusions. If we step outside of the boundaries we think exist, we can create magic in our communities.



Key Questions
Some of the key questions Tim and Jason explore in this episode include:
What is the power of people, in your experience, to open doors both personally and educationally?
What is the "Academy Method?"
What are the seven lessons for school leaders that shape your work and the design of your school?
How does an arts-based school that creates high-level artistic quality also design for rigor?
Episode Highlights
"Pretty much all you need to do at any time to change someone's life is decide to do it. That's it, right? It's not the facilities that changes someone's life. It's not the mission statement that changes someone's life. It's not the curriculum, it's the people. And most of the time, all we have to do, especially with young people, you meet them where they're at, and you have this power to help transform their entire life." (7:02)
"What I promise to them is that I'm never going to be some random jerk in a suit who you've only met the day you've done something bad. And you're a teenager, so you're going to do something dumb. When that happens and we have to have a conversation about it, I endeavor for that to be our 40th conversation. So as we have to navigate this thing, we're doing it based on a human relationship and not one of the title that I have or the role that you play in the school." (19:54)
"A next thing that's really important to us, we say this a lot, expose young people to challenging material, high expectations, and critical feedback. We meet more and more young people—and we're grades nine through 12—we meet so many more ninth graders these days where nobody has ever told them, eh, this is OK, this is OK." (29:10)
"Most of what we think are our limits are illusions, for ourselves personally, and for our communities. And a habit we can get into as school leaders is to fall into the trap that school is somehow already defined, and learning is somehow already defined, and procedures are somehow already defined. And we need to figure those out and do them, when in fact we have tremendous power to just decide what it's going to be." (41:26)
Resource List
Full Transcript
Read the full transcript here.
Related Episodes
About Our Guest
Jason Patera is the head of school at The Chicago Academy for the Arts, an independent high school for passionate, elite-level filmmakers, musicians, actors, dancers, writers, animators, and visual artists from throughout Chicagoland and well beyond. Patera has been a part of the Academy community for more than 25 years, serving as an "intern," faculty member, music department chair, assistant head of school/principal, and, since June 2016, head of school.

In 2001, Jason co-founded Caltera School, an award-winning community music school based on the "Caltera Method," an innovative approach to teaching and learning music.

A fierce advocate for the arts and arts education, Jason has been recognized by the U.S. Department of Education for excellence in teaching and was named a 2018 Golden Apple Leader of Distinction. His 2018 TED Talk Life at the Intersection of Excellence, Purpose, and Passion has inspired educators and ambitious dreamers around the world.

He is a jazz pianist and drummer and a summa cum laude graduate of Berklee College of Music, where he studied arranging and contemporary writing and founded the college's newspaper The Groove. He also holds a master's degree in educational leadership.

Jason serves on the boards of Arts Schools Network, the Lake Michigan Association of Independent Schools, and Live Grit Soars.

A former "big guy" turned endurance athlete, he is the author of I Can Do Hard Things, or: How Much it Hurt to Run 100.6 Miles, which has inspired at least one person to take up running and many more to say, "oh, no—I'm absolutely never doing that."