Available May 9, 2023
Find New View EDU on Apple Podcasts, Google Play, Spotify, Stitcher, and many other podcast apps.

After a long and distinguished tenure as the president of NAIS, Donna Orem is retiring in the summer of 2023. Throughout her career, she has seen the independent school landscape, and education in general, change dramatically. As Donna prepares to depart NAIS, what lessons has she learned? How has her career in education changed her? What wisdom can she pass along to her successor and to everyone working in schools right now?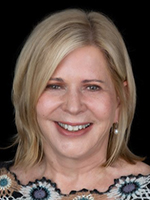 Donna joins host Tim Fish for a retrospective on her 40 years in education, as well as a frank look at the challenges and opportunities ahead for schools. Building on the major theme of community, Donna shares her perspective on everything from lifelong learning to polarization, school shootings, and economic concerns—and how independent schools can rise to meet these challenges in the future.

Across the decades, Donna says, the best days have been the ones that build community, while the worst are the ones that tear communities apart. One of Donna's major lessons for educators is to lean into community through listening, care, humility, and openness to new ideas. Reflecting on her tenure as a leader, she traces the human instinct to lead through a sense of certainty and entrenchment in being "right," through the evolution of true leadership emerging from a willingness to step back and consider multiple perspectives. With deep polarization threatening school communities across the country, Donna's wisdom about assuming good intent and rejecting the temptation to pit one side against another is a valuable takeaway for school leaders.

Another key takeaway is the importance of accessibility. As Donna reflects upon the changes she's seen in the independent school landscape, she shares that she has watched the business model of schools change radically. From the days of little to no marketing, high demand for enrollment, and fewer facilities, independent schools at large have grown to embrace bigger campuses, more state-of-the-art facilities, and strategic marketing and recruitment strategies—often at the expense of keeping tuition affordable for the average family. Recalling a memory of reading a letter from a family who could no longer pay for their children's independent school education, Donna offers the caution that schools must look deeply at the affordability and accessibility of their educational models to be able to serve students from a range of backgrounds.

How to solve this challenge—and many others—remains to be seen, but Donna encourages school leaders to embrace collaboration and interdependence as a path forward. Summing up her experience at NAIS as being all about relationships, she reminds schools of the strength that exists when different communities join forces and support one another. Moving forward, Donna reminds us, independent schools can continue to excel as places where individuals are seen and celebrated—but only through community can we all thrive.


Key Questions
Some of the key questions Tim and Donna explore in this episode include:
How can school leaders stay informed, keep a finger on the pulse of upcoming trends, and maintain the ability to pivot when presented with new information?
How have independent schools changed over the course of 40 years? Where are they headed in the future?
What do independent schools do really well? How can the NAIS community help schools continue to flourish?
What are the challenges ahead, and what are your hopes for the future?
Episode Highlights
"I think another thing that I've learned from this is that there is a role that we each have to play in a learning community, and that is assuming good intent. Because it's very easy, particularly when you get into these conversations around highly charged issues, to assume that there are two sides or three sides to the issues. And people get pitted against one another. And I have learned to step back and to say, 'You know what? Chances are we want to get to the same place, but we have a different way to get there.'" (7:03)
"But I remember at some point a family writing a letter to the head of school saying, we've had two children at this school and they have thrived, but we've come to the point where we can no longer afford the tuition. … That was the most painful letter. And it was just so symptomatic, I think, of what families were feeling. So I hope we can get beyond that one day so that when a family has that experience, they are not forced to make that impossibly hard decision." (19:57)
"I think balancing all those relationships has become our biggest challenge as an organization. And, how do you ensure that you see that diversity, you recognize that diversity, and you develop programs and services to meet leaders where they are? Because one-size-fits-all just does not work anymore. I don't know that it ever did." (35:53)
"We also know that learning, at its very core, is a social activity. It's not an individual activity. I know often people like to think it is, but most of the research will say we learn by being with others. And so the other side of that tension is celebrating the individual, but doing it in community. And I think we do community really well." (39:21)
Resource List
Full Transcript
Read the full transcript here.
Related Episodes
About Our Guest
Donna Orem was named president of NAIS in November 2016. She served as NAIS's chief operating officer for 11 years before becoming president. In that capacity, she directed the organization's strategic planning and provided vision and leadership for new initiatives, products, and services. She also oversaw human resources and talent management. Donna joined NAIS in 1998 as the vice president for educational leadership and later became the vice president for strategic initiatives and research.

Prior to joining NAIS, she was the vice president for products and services development at the Council for Advancement and Support of Education (CASE). In her 15 years at CASE, she also served as the vice president for independent schools. In that role, she managed all services for the independent school advancement community, including the annual CASE/NAIS Conference. Earlier in her career, she served as associate director for the American Association of University Women (AAUW).

Donna speaks frequently about leadership, governance, innovation, trends in independent education, workforce development, and student health and well-being. She is co-author of the NAIS Trustee Handbook and contributes regularly to Independent School magazine, the Independent Ideas blog, the NAIS Trendbook, and Looking Ahead. She holds a bachelor's degree in English from St. Joseph's University (PA) and attended graduate school at the University of Maryland School of Journalism.